Illinois Walk In Tub Prices
Need Prices For a Walk In Tub in Illinois?
So how much does an Illinois Walk-In-Tub Cost? This is a simple question to answer once a trained Independent Home Walk-In Tub specialist is called to assess and measure your bathroom space. In home estimates are free. We can even give you a ballpark estimate over the phone.
Simple Walk in Tub Pricing in Illinois
Your quoted IL Walk-In Tub price will be valid for a full 30 days from the date of consultation. And there is never pressure! You will be offered an estimate an not pushed to make a decision on the spot. Independent Home Products, LLC Walk-In Tubs will happily deliver and install a walk in tub at an affordable price that will fit your needs and your budget.
In order to provide accurate pricing for a walk in tub in Illinois, you will be asked the following during your free-in home consultation: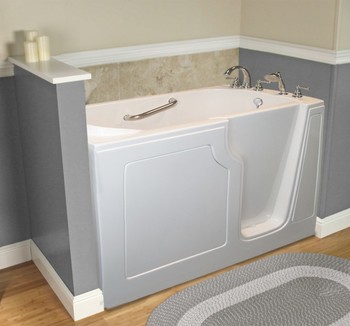 Will you require installation?
What type of hot water heater do you have?
How many entryways are between the home entrance and the bathroom door?
Will you transfer into the tub from a wheelchair?
How are is your current bathroom configured?
What are your goals for adding a walk in?
Are there windows where the walk in tub will be installed?
Do you have a tub/shower combo, regular tub or a shower stall in the space you'll install the walk in?
Do you have any medical conditions such as arthritis or circulation challenges?
Would you prefer air and/or whirlpool jets for your Walk-In Tub or just a soaker tub?
What other features do you need for your IL Walk-In Tub?
What is the height weight of the person(s) who will be using the Walk-In?
Call Independent Home Products, LLC (844) 873-9499 today for a free in-home consultation and quote for a walk in bath tub in your Illinois home. We look forward to helping you get an accurate and affordable price for your IL Walk-In Tub.