Nationwide Walk In Tub Provider
Quality Walk-in Bathtub and Shower Installations

---
Call for FREE Quote
---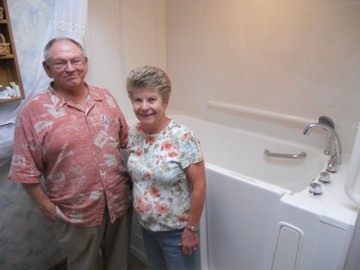 Serving homeowners throughout the United States since 2007, Independent Home Products, LLC has proudly provided residents with custom walk in tubs and walk in showers. Our mission is to keep our customers as safe and independent in their homes as long as possible. Independent Home Products, LLC manufactures 10 different sizes and models to choose from. We can design a custom walk in bathtub or walk in shower to fit any bathroom space. Independent Home Products, LLC has set the national standard for functionality, durability and beauty. Whether you are in need of a hydrotherapy tub to manage aching joints and muscles or require a walk in tub due to difficulty with bathroom mobility, Independent Home Products, LLC is the nation's choice for quality walk in showers and walk in tubs that are built to last. We have contributed to improving quality of life for thousands of folks, and we look forward to being of service to you.
Why Choose Independent Home Products, LLC For Your Walk In Tub?
We Stand Behind Our Product.
All of the staff at Independent Home Products, LLC are trained in producing quality products with bathroom safety as the highest priority. Walk in tubs are big investments. They increase bathroom mobility and quality of life. The caring experts at Independent Home Products, LLC will work be available during every step of the process; choosing a walk in tub that best suits your budget and needs to installing the walk in tub in your home.
Made in the USA!
All of the walk in tubs installed in by Independent Home Products, LLC installers are manufactured at our headquarters in Long Island, New York. Our walk in tubs and Freedom Walk in Showers are designed and manufactured using the newest technology available and then shipped to your home, where it will be installed in as little as one day!
Quick and Efficient.
Because all of the walk in tubs are manufactured in our facility in New York, our lead time is quick. Our walk in tub experts can complete the steps of measuring your space, helping you choose he best walk-in to fit your needs, order the walk in shower or tub, build it, ship it and install it within 10 to 14 days! Our system is streamlined to flawlessly fulfill orders, and that savings of time and money is passed on to our customers.
---
Call for FREE Quote
---
Financing Available - Low Monthly Payments
Call Independent Home Products, LLC to discuss your Walk in tub needs!