Arizona Bathroom Safety
Make Your Arizona Bathroom Safe with a Walk in Tub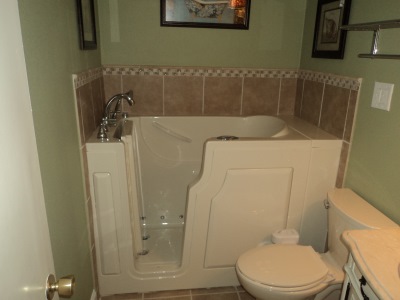 Prevent Falls in Your Bathroom in Arizona With a Walk in - Bathroom falls in Arizona are quite common, with the frequency increasing each year. Fear of falling and potential for injuries threatens an individual's independence. And of course, falls can impair a person's ability to remain self-sufficient in their own home. Safe bathtub and shower transfers that walk in products provide help decrease the risk of falls.
Our Arizona walk-in tubs offer the following safety features:
Low threshold for easy entry and exit
Wheelchair accessibility
Well-placed safety grab bars
Convenient and comfortable seating
Power speed drain – drains in 1-2 minutes!
Temperature controlled – allows you to set a maximum temperature
How Independent Home Products, LLC Helps To Keep People Safer With Walk in Bathtubs and Walk in Shower Installations in Arizona
All of the staff at Independent Home Products, LLC are caring experts in bathroom safety. The safety of our customers is our number one priority as we design and manufacture walk in bath tubs for AZ residents. Each walk in tub is custom manufactured in our own facility to fit your needs. Wider models are available for full figured clients.
Other Ways to Prevent Falls in Your AZ Bathroom
Remove objects that can be tripped over
Keep the bathroom floor dry
Install grab bars in the shower, tub and next to the toilet
Use non slip strips on shower floors and bathtub floors
Improve your restroom lighting
Keep items in cabinets and closets within easy reach
Use a rubber backed bath mat outside of the shower or tub
Cap Thermostat to keep water temperatures below 115 Degrees